Extra £200m for care home places aims to free up NHS hospital beds | UK News
An extra £200m is being provided to pay for care home beds so people can be discharged from hospital quicker, freeing up space for people in greater need.
It follows a crisis meeting between the prime minister, health secretary and NHS leaders on Saturday.
Many hospitals are struggling to free up beds, with the situation exacerbated this winter by factors such as high levels of flu and rising COVID cases.
About 13,000 people in English hospitals are well enough to be discharged but still need some care before they can return to their own homes.
Local authorities will now be able to buy more short-term beds in care homes, as well as other settings, so people who are fit enough can leave hospital.
The government says more beds on wards will also help reduce pressure on emergency departments and speed up ambulance handovers.
Patients moved to a care home will be able to continue their recovery and get treatment from nurses, GPs and other health workers.
The £200m is in addition to a £500m Adult Social Care Discharge Fund previously announced and will pay for stays of up to four weeks until the end of March.
Health Secretary Steve Barclay is due to give more details in the House of Commons later.
He will also detail other measures such as six "discharge frontrunners", areas that will explore "innovative" long-term initiatives on freeing up beds.
NHS crisis 'worse' than usual winter

In a statement, Mr Barclay said the NHS was "under enormous pressure" due to COVID, flu, the pandemic backlog, Strep A and upcoming strikes – and that he was now taking "urgent action" with the extra cash.
Labour shadow health secretary Wes Streeting dismissed the plan as "yet another sticking plaster to cover the fact that under the Conservatives, our health and care services are buckling".
He said his party would "tackle the root cause of the crisis" as well as recruiting and retaining more carers in a "first step towards a National Care Service".
The government says the health service will get up to £14.1bn of additional funding over the next two years to improve urgent and emergency care and tackle the backlog.
Some £7.5bn of the money is earmarked for adult social care and discharge.
Starmer proposes '10-year NHS plan'

Other new initiatives include "virtual wards" – which involve people being monitored at home via devices such as pulse oximeters; and a new service for people who fall at home which health bosses believe can save 55,000 ambulance call-outs per year.
Shadow of pay dispute remains
As clinical demand increases, the government is also facing the prospect of further strikes from NHS workers, including nurses, later this month – and possibly junior doctors in March.
But the health secretary has doubled down on insisting pay review bodies are the best way for public sector salaries to be decided.
For months, ministers have been saying negotiations are up to those bodies, made up of experts and staff from the relevant fields, to decide.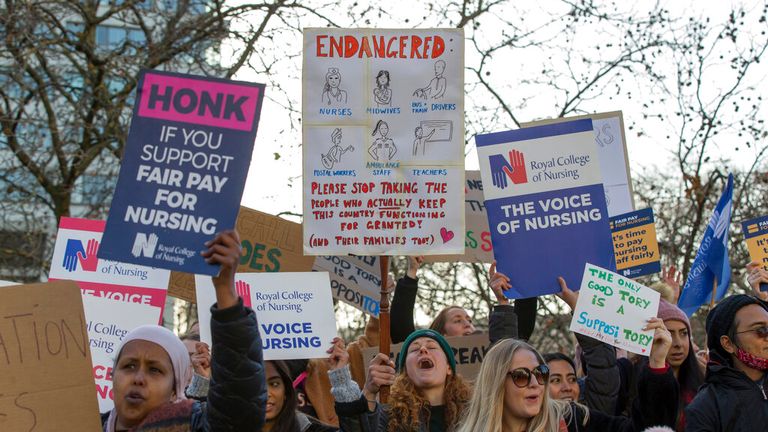 But unions have said ministers have the final say on whether to accept the recommendations and have argued this year's salaries were decided before inflation soared above 10%.
Mr Barclay is set to meet union leaders on Monday but wants to focus on pay negotiations for 2023/24.
The Royal College of Nursing (RCN) said it will go ahead with its strikes on 18 and 19 January unless the last few months of this financial year are discussed.
Read more:
Sunak tells health leaders 'bold and radical' action is needed to get through crisis
Record number of ambulances queue at A&E departments in England
How much are NHS failings to blame for rising excess deaths?
Pat Cullen, head of the RCN, has urged ministers to meet nurses halfway on their demand for a 19% pay rise for this financial year.
Prime Minister Rishi Sunak indicated to the BBC on Sunday only 2023/24's pay is up for discussion.
Ms Cullen said she had a "chink of optimism" as she said she noticed a "little shift" in his stance.
Health Minister Maria Caulfield, who is also a cancer nurse, told Sky News' Sophy Ridge on Sunday programme the talks on Monday would be about "both pay and conditions" after the government had previously said only a change in conditions was on the table.