Flying Scotsman crash: Two people taken to hospital after collision in Scotland | UK News
Two people have been taken to hospital after a crash involving the Flying Scotsman.
The crash happened at Aviemore Railway Station, in the Cairngorms, northern Scotland, at 7.10pm on Friday.
The National Railway Museum confirmed the steam locomotive had been involved in what it described as a "shunting incident".
"We will provide further information once more details are known," the museum said.
Carriages for the Royal Scotsman – a luxury sleeper train which travels on rail tracks around the Scottish Highlands – were also involved in the collision.
A Police Scotland spokesperson said two people had been taken to Raigmore Hospital following the crash but their injuries are not believed to be serious.
"A number of other passengers are being treated at the scene and enquiries are ongoing," the force said.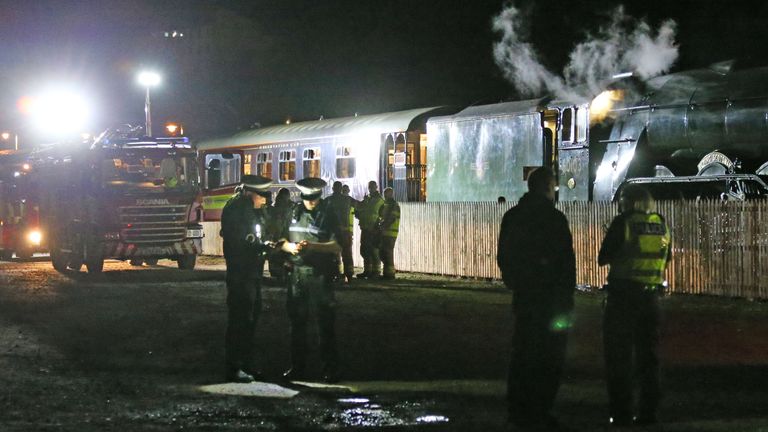 Three people had also been treated at the scene, but did not require hospital treatment, according to the Scottish Fire and Rescue Service (SFRS).
"Three appliances remain at the scene," a spokesperson for the service said.
The crash happened on Strathspey Railway, a heritage line, and involved a stationary carriage and another train which was in the station.
Read more from Sky News:
Woman dies after collision with cyclist near Scottish Parliament
Police reveal DNA breakthrough in 1983 cheese wire murder
Scottish Greens transport spokesperson Mark Ruskell MSP said: "It is too early to know what has caused this incident, but clearly a full investigation will have to take place.
"From reports it appears this has been on the heritage track, the Strathspey Railway line, involving the Flying Scotsman and that nearby services on the main line have been temporarily impacted to allow emergency efforts to continue.
"We are thinking of all those involved at this challenging time and thanks all those who have taken part in the emergency response."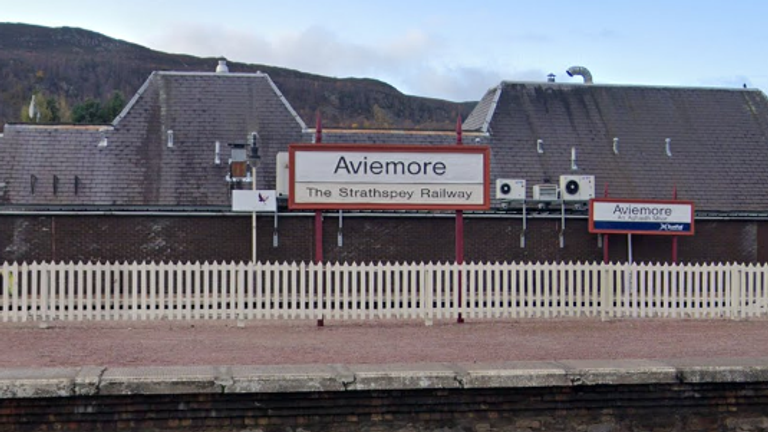 A spokesman for Network Rail said: "It's on a heritage railway line, it's not our infrastructure. The main line is shut while emergency services respond.
"We are saying to passengers to check before travelling."
Flying Scotsman – the steam locomotive which made history in 1934 by becoming the first to officially reach 100mph – was scheduled to be running trips this weekend.
The locomotive, built in Doncaster in 1923, is due to return to the south Yorkshire city on Monday as part of its 100th anniversary celebrations.