Former Labour MP convicted of six counts of expenses fraud | Politics News
A former Labour MP who submitted fake expenses to fund a cocaine habit while in office has been convicted of fraud.
Jared O'Mara, who represented Sheffield Hallam from 2017 to 2019, was on trial at Leeds Crown Court for submitting "dishonest" invoices to the Independent Parliamentary Standards Authority (Ipsa).
He was accused of trying to claim up to £30,000 in taxpayers' money to fund an "extravagant lifestyle – drink, cigarettes and, above all, cocaine".
O'Mara, 41, was in "poor mental health" at the time and abusing the class A drug in "prodigious quantities", the court heard.
On Wednesday he was found guilty at trial of six counts of fraud and cleared of two.
Co-defendant Gareth Arnold was found guilty of three out of six fraud charges, and a third defendant, John Woodliff, was found not guilty of one offence of fraud.
O'Mara and Arnold, 30, will be sentenced at the same court on Thursday.
Read more from Sky News:
Politics latest – live updates
Anti-terror programme needs 'major reform'
Think-tank predicts UK will avoid recession
Jurors were told O'Mara made four claims between June and August 2019 from a "fictitious" organisation called Confident About Autism South Yorkshire.
They also heard he submitted two invoices from his "chief of staff", Gareth Arnold, for media and PR work. Prosecutors say that work was never carried out.
Leeds Crown Court was told Ipsa – the organisation set up after the expenses scandal to regulate MPs' staffing and business costs – did not pay out any of the claims due to a lack of evidence that any of the work was done.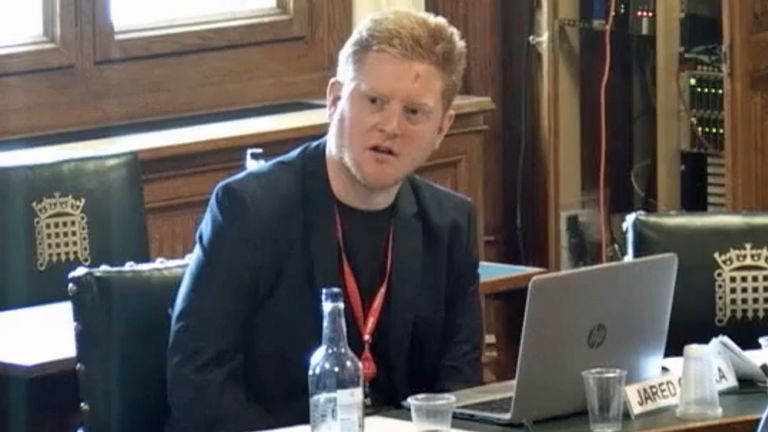 Jurors were told O'Mara had a "dysfunctional" office and sacked most of his staff "overnight" in around April 2019.
Financial investigations revealed O'Mara was "living to or beyond his means and in dire need of cash".
Setting out his argument, prosecutor James Bourne-Arton said Arnold and Woodliff were "old friends of Jared O'Mara and sadly were persuaded to go along with his dishonest claims".
In the summer of 2019, however, Arnold contacted South Yorkshire Police after "reaching a point at which he was no longer willing to participate in the fraud", the court heard.
In a phone call played to the jury, Arnold said: "It's a bit of a tricky one, but yesterday I spoke to the 999 service and the mental health crisis team about my employer, who I believe is suffering a severe psychotic episode and has delusions of a conspiracy against him.
"I also believe he has been submitting fake expense claims to the government very recently."
O'Mara won Sheffield Hallam for Labour from former Liberal Democrat leader Sir Nick Clegg in 2017 but later left the party after a series of controversies.
He stayed in office as an independent MP but did not contest the 2019 general election.