Hancock took mistress to private dinners with US health sec – then tried to remove suggestion he invited her, leaked messages show | Politics News
Matt Hancock took his mistress to private dinners with the US health secretary then altered a ministerial response to remove suggestions he invited her, leaked messages have revealed.
The latest revelation from more than 100,000 WhatsApp messages leaked to the Telegraph shows a conversation between Mr Hancock's former political adviser, Allan Nixon, and the former health secretary.
Gina Coladangelo, who Mr Hancock was having an affair with, attended two dinners with him at a G7 summit of health ministers held in Oxford about a month after their relationship started.
She was appointed a non-executive director of the Department of Health and Social care (DHSC) in September 2020, eight months before the pair started seeing each other in early May 2021.
Journalist Isabel Oakeshott said she leaked the messages in the interests of "public interest" after Mr Hancock handed them to her as she helped him write his Pandemic Diaries book.
The latest messages, revealed on Sunday, show Ms Coladangelo was invited to the dinners as Mr Hancock's guest with Xavier Becerra, US health secretary, on 3 and 4 June at Mansfield College, Oxford University.
After Mr Hancock was forced to resign over the affair in late June 2021 when CCTV footage was published of them kissing in his office, Labour MP Ben Bradshaw asked what role Ms Coladangelo played at the G7 meeting and what expenses she claimed.
Allan Nixon, Mr Hancock's former political adviser who had stayed on at DHSC to help Sajid Javid take over, had a WhatsApp conversation with Mr Hancock suggesting how he should answer the question.
Read more: How have Hancock's WhatsApps been leaked – and what is an NDA?
In the first exchange, Mr Nixon appeared to have scribbled out a printed answer and suggested another in biro.
The original suggested reply said: "Gina Coladangelo attended the G7 Health Ministers' Meeting at the request of the previous Secretary of State, for the Department of Health and Social Care."
But Mr Nixon wrote this should be changed to: "Gina Coladangelo played an advisory role to the Secretary of State at the G7 meeting."
Mr Hancock then suggested a further version that erased any link to him: "Gina Coladangelo attended the G7 in her role as a non-executive director of DHSC."
The final response, published on 28 October 2021, removed any reference to Mr Hancock or the DHSC by name.
"Gina Coladangelo attended the G7 health ministers' meeting as a part of the UK delegation," it read.
Read more:
Hancock told aides he wanted to 'frighten the pants off everyone' on COVID
Leaked messages show Hancock's reaction to filmed 'snog' with aide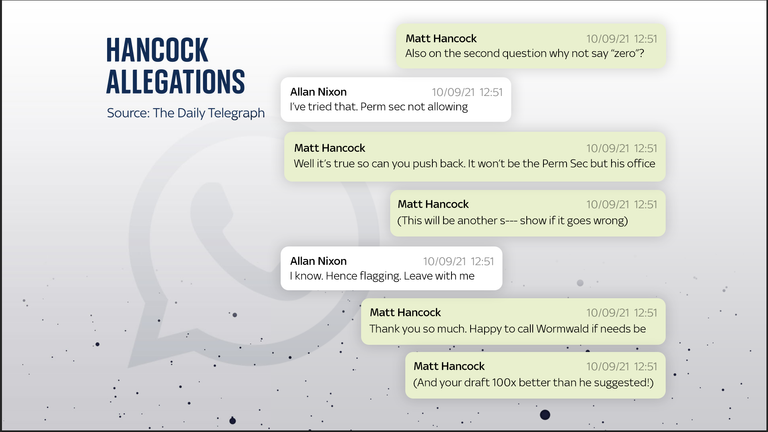 In response to the question about expenses, Mr Hancock had wanted it to say "zero" but Mr Nixon said this was overruled by Sir Chris Wormald, DHSC's permanent secretary.
Mr Hancock said it was true she incurred no expenses and warned: "This will be another s*** show if it goes wrong."
The final answer read: "All travel and subsistence costs were covered as part of the Department's overall booking. Ms Coladangelo did not claim any additional expenses."
Sky News understands Matt Hancock believes it is normal for parliamentary questions to be amended, with ministers doing so frequently.
Sources close to him said it is outrageous to suggest he did anything wrong and the response was reasonable and accurate.
Also released on Sunday were WhatsApp messages from head of the civil service Simon Case, who was the cabinet secretary under Mr Johnson.
He said to Mr Hancock the public needed to be told to isolate by "trusted local figures, not nationally distrusted figures like the PM" in October 2020, as the government was expanding testing, the Telegraph reported.
Earlier this week, the Telegraph released messages showing Mr Hancock and others discussing how to use the Kent COVID variant to scare the public so they would obey the rules in December 2020.
Mr Hancock told aides he wanted to "frighten the pants off everyone" to ensure restriction compliance.
Another set of messages was revealed this week showing Mr Hancock's former aide called Boris Johnson's senior adviser Dominic Cummings a "f***ing piece of s***".
Jamie Njoku-Goodwin made the remark in March 2021 after Mr Cummings described the DHSC as having been reduced to a "smoking ruin" by the pandemic during a parliamentary committee hearing.
He also called him a "psychotherapist" before quickly correcting the typo to: "Psychopath."
Put your questions to SNP leadership candidates
Sky News has announced a live TV debate with the three candidates in the race to be the next Scottish National Party leader and First Minister of Scotland.
Kate Forbes MSP, Humza Yousaf MSP and Ash Regan MSP will face questions from Sky News' Political Editor Beth Rigby. The one-hour show will be aired on Monday March 13th at 8pm live from Edinburgh.
If you have a question for the candidates you can contact us at:
<p>
:: <a href="https://qrcode.skynews.com/skynews/YourReport" class="instorylink">Your Report </a> on Sky News apps
<P>
:: <a href="https://wa.me/447583000853″ class="instorylink">WhatsApp</a>
<P>
:: <a href="mailto: news@skynews.com" class="instorylink"> Email</a>
<p>