Keir Starmer accuses Rishi Sunak of being in 'total denial' about the state of the country in PMQs clash | Politics News
Sir Keir Starmer has attacked Rishi Sunak over the "shocking state" the Conservatives have left the country in during the cost of living crisis.
The Labour leader said living standards were on the floor after 13 years of "Tory failure", as he pressed the prime minister on what he will do over rising energy bills.
Speaking at PMQs he said: "After 13 years of Tory failure, the average family in Britain will be poorer than the average family in Poland by 2030. That's a shocking state of affairs. If the Tories limp on in government we are going to see a generation of young people learning to say Auf Wiedersehen in Polish, aren't we?"
Politics live: Starmer attacks Sunak over cost of living crisis
Mr Sunak blamed the rise in the cost of living on the war in Ukraine, adding: "And I just remind the honourable gentleman what we are doing to ease people through that."
But Sir Keir said it's "not as complicated as he pretends" as he called on the PM to "get rid of the loopholes in his botched windfall tax and finally choose family finances over oil profits".
"Oil and gas companies are making vast, unexpected profits whilst working people face misery of higher bills," he said.
"He can boast all he likes but companies like Shell didn't pay a penny in windfall tax last year and they're still not paying their fair share now."
The windfall tax was raised to 35% in November which Mr Sunak said is "comparable, indeed higher than other North Sea nations".
But whether companies are paying this tax is complicated as often they get credits for investments within the UK to bring their payments down – something opposition MPs have branded a "loophole".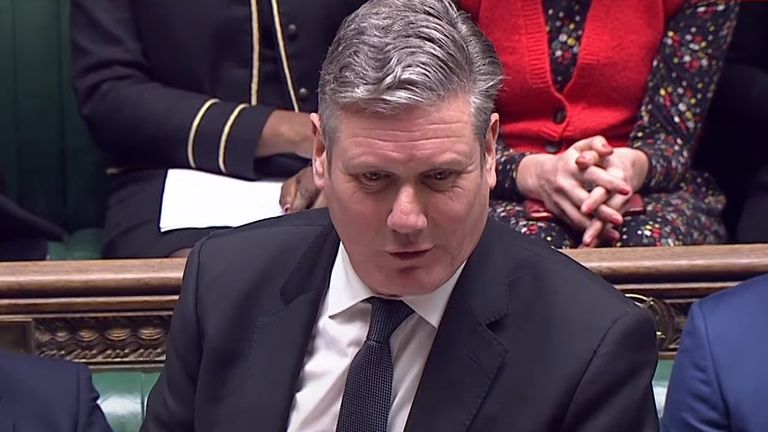 Read More:
What is a windfall tax?
Hancock faces claims he rejected COVID testing advice for care homes
Sir Keir said energy bills are due to go up by £900 in April and questioned what action Mr Sunak will take to make them cheaper.
Mr Sunak accused the Opposition leader of making "inflationary, unfunded spending commitments" and running out of taxpayers' cash to fund Labour's promises.
Sir Keir hit back with a reference to the economic damage caused by the PM's predecessor.
"The dictionary definition for unfunded commitments is last year's kamikaze budget. The only country in the G7 still poorer than it was before the pandemic, and he stands there pretending it's all fine. Total denial about the damage and decline that he is presiding over."
Labour 'running out of other people's money'
During PMQs, Sir Keir also called on the prime minister to scrap the non-dom tax status and use it to fund better childcare provision.
He added: "It is not just bills or housing, families are paying over a thousand pounds a month just to send their child to nursery. If he scrapped his non-dom status, he could start to fund better childcare, put money back in people's pockets and get parents back to work."
Sir Keir said it "seems a pretty simple choice" and asked: "So what is he going to choose? Wealthy tax avoiders or hardworking parents?"
Mr Sunak replied: "He has already spent the money he has claimed he would raise from that policy on five different things. It is the same old Labour Party, always running out of other people's money."
PM 'letting generation down' over housing
Starmer and Sunak clash over housebuilding

The fiery session also saw the pair clash over housebuilding targets, with Sir Keir raising the fact that the Home Builders Federation estimate housebuilding is going to fall to its lowest level in 75 years.
The Labour leader said a recent Tory rebellion forced Mr Sunak to scrap targets for new homes and called on him to change course.
He told MPs: "He can change course on this, he can bring back targets and planning reforms or he can duck that fight and let a generation down, which is it?"
In response, Mr Sunak said the UK had record levels of housebuilding – a claim that has previously been rebuked by the Full Fact charity.
They said in November that Mr Sunak's assertion that a record number of new homes had been built did not "appear to be correct" and no data could be found which backed it up.
Speaking after PMQs today, the prime minister's spokesman said they would have to check what Mr Sunak was referring to in today's encounter.