King to give up property in Wales amid questions about future of his numerous homes | UK News
The King is giving up his home on the edge of the Brecon Beacons.
He bought Llwynywermod, a farmhouse near Llandovery, Carmarthenshire, for £1.2m in 2007 via the Duchy of Cornwall.
When he was Prince of Wales, he used it as a base for his regular visits to the nation – but now the title has been passed to his son Prince William, he will no longer spend much time there.
Read more: Why people want William's inherited title to end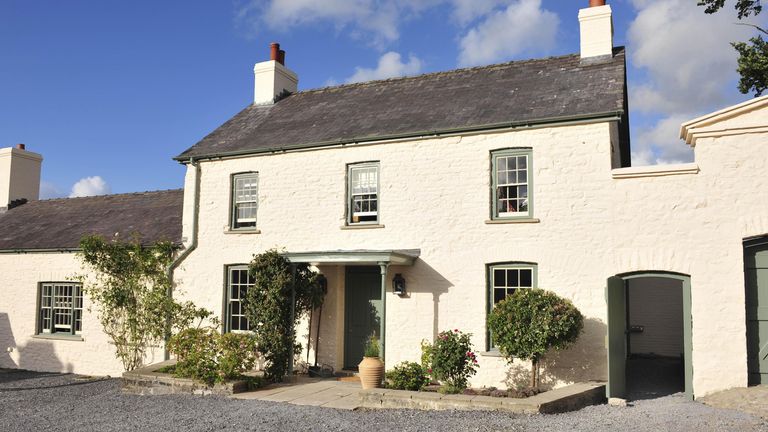 The Telegraph quoted royal sources as saying the King remained "passionate" about Wales, but would give up the property because it was "unlikely" he would be able to use it in the same way he had previously.
The old house and the disintegrating concrete and corrugated iron farm buildings were restored by Welsh craftsmen using traditional methods and local materials.
Charles planted climbers including Albertine roses, jasmine and honeysuckle up the walls, and six of the English field maples which formed the avenue of trees at William and Kate's 2011 wedding were rehomed at the Welsh retreat.
Future of King's properties uncertain
The Telegraph reported the King and his aides have been looking at the future of his numerous properties.
These include Highgrove, Birkhall, Clarence House, Sandringham and Balmoral, plus official residences such as Buckingham Palace and Windsor Castle.
It is possible the public may be given more access to some of the properties, so the buildings can pay their way.
Llwynywermod sits on a 192-acre estate and the King has been paying rent on it since the Duchy of Cornwall was passed to Prince William, along with its £23m-a-year income.
The lease expires this summer, but the King reportedly told the Duchy earlier this year he would be giving it up.
A spokesman for the Prince of Wales told The Telegraph he has no plans to establish a home in Wales, preferring to stay in hotels to help the local economy.