Leeds St James's Hospital: Student nurse appears in court accused of planning terror attack on RAF base | UK News
A student nurse has appeared in court accused of taking a pressure cooker bomb to a maternity hospital in Leeds and planning a terrorist attack on an RAF base.
Mohammad Farooq, 27, was allegedly inspired by radical Islam and Jihad when he carried out "hostile reconnaissance" of the military base in Yorkshire on 10 January and 18 January after carrying out online research.
He is said to have constructed a viable bomb made from a pressure cooker, 13.7kg of a homemade low explosive mixture and a length of pyrotechnic fuse.
Farooq was arrested in the early hours of last Friday outside the maternity unit of St James's Hospital in Leeds, where he had been due to work a shift.
He was allegedly in possession of the explosive device and an imitation firearm – a Gediz 9mm P.A.K semi-automatic pistol.
His actions at the hospital are not alleged to have been motivated by terrorism but by a grudge towards another member of staff.
Farooq, from Leeds, appeared at Westminster Magistrates' Court on Friday from a police station in Bradford wearing a grey tracksuit.
He spoke to confirm his name, address and date of birth but was not asked to enter pleas to the three charges he faces.
Farooq is charged with one count of engaging in conduct with the intention of committing acts of terrorism between 12 July and last year and 20 January.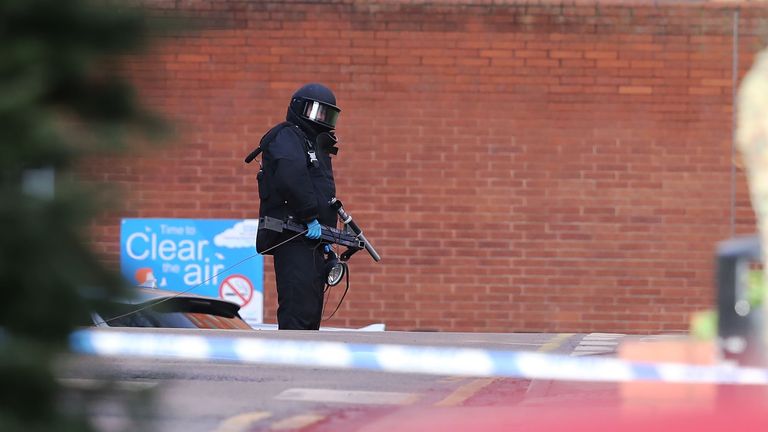 Wards on the Gledhow wing of the hospital were evacuated after Farooq was detained at around 5am last Friday.
Army specialists and a bomb disposal unit also attended the scene and a cordon was put in place as a precautionary measure.
Read more:
At least one dead in Spanish church 'terror attack' stabbing
British teenage extremist whose videos were linked to two mass murders in US jailed
Farooq is said to have told a man he "felt like killing everyone" before showing him a gun, then told police officers he had a bomb.
There was no application for bail and he was remanded in custody ahead of his next appearance at the Old Bailey on 3 February.