Meet the artist living in a skip to make 'statement' about London's rent prices | UK News
"Living in a tip" is a phrase most people use to describe a messy home.
But for artist Harrison Marshall, it will have a much more literal meaning.
The 28-year-old moved into a converted metal skip in Bermondsey, southeast London, in January, as part of a project aiming to make a "statement" about the "crazy" cost of living in England's capital city.
He aims to live in the standard eight-yard skip, usually used for storing, moving and dumping waste building material, for the rest of this year.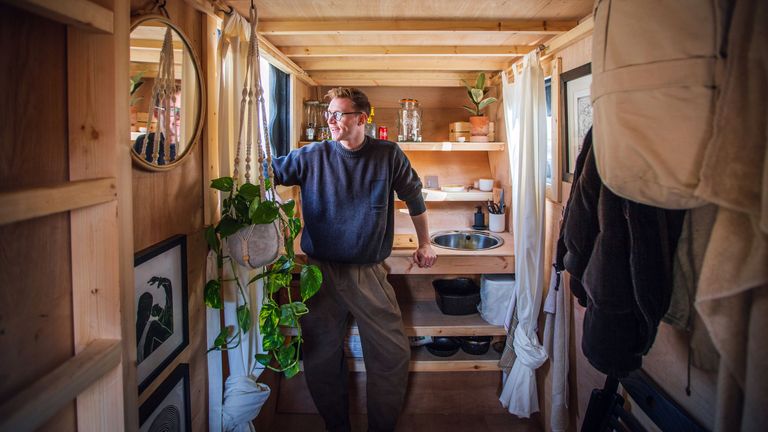 'Is it possible to live in a skip?'
Speaking about the project, he said: "For me to live in this area, this was the only option for me to do that, which is just mad.
"When I came back to London I started the hunt for a room, and, obviously, within that timeframe, the prices had gone kind of crazy.
"People were getting hundreds of messages for a single room… it was at the point where if you weren't willing to put your deposit down the same day as viewing it, you didn't really stand a chance.
"And so that's when I started picking up the idea again, about is it actually possible to live in a skip?"
Mr Marshall's new home comprises a standard 12m x 6m (39ft x 19.5ft) builder's skip with an insulated timber frame and a barrel roof.
The artist also has access to a portaloo, while he will mostly shower at work or the gym.
He also hopes to be connected to a power source which will enable him to use a heater and a cooker.
Read more:
Broadband and phone bill rises to be investigated
Evictions on rise as charities urge not to 'look other way'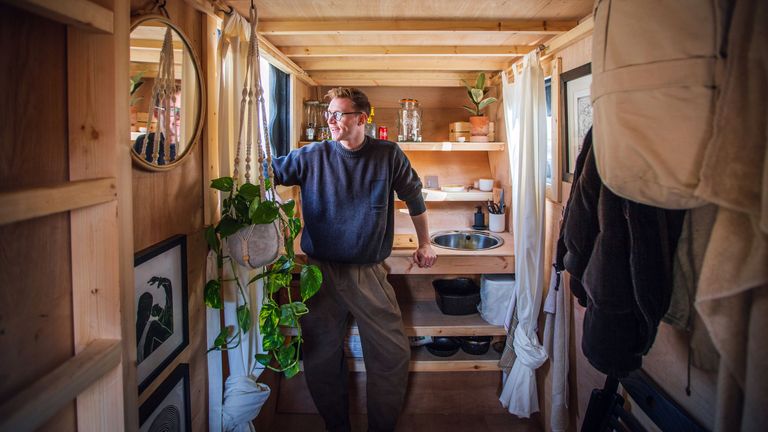 'Crazy' living in central London
The skip has been provided for a nominal rate of £50 a month, while the initial build-cost was £4,000.
"I don't expect other people to pursue this or replicate it," Mr Marshall said.
"It's very hard to replicate. So, really, it's more of a statement and something which tackles or talks about the issue in a light-hearted way and highlights just how crazy it is to live in central London."
Mr Marshall, who has decorated his new home with friends' artwork and gifts from his family, described his neighbours as "very friendly" and has even welcomed guests.
He added: "I've had friends come over already, everyone wants to come and see the new place."
The Skip House is part of Skip Gallery, a public art initiative intended to create space and opportunity for emerging artists.