Queen Consort Camilla has tested positive for COVID-19, Buckingham Palace says | UK News
The Queen Consort has tested positive for COVID-19 after suffering from cold symptoms, Buckingham Palace has said.
"After suffering the symptoms of a cold, Her Majesty The Queen Consort has tested positive for the COVID virus," the statement said.
"With regret, she has therefore cancelled all her public engagements for this week and sends her sincere apologies to those who had been due to attend them."
Earlier, the palace said Camilla, 75, had been forced to postpone a visit to the West Midlands on Tuesday after contracting a "seasonal" illness.
She was set to carry out several engagements across the region, including celebrating the centenary of Elmhurst Ballet School in Edgbaston, Birmingham.
Camilla was also set to visit the Southwater One Library in Telford to thank staff and representatives from outreach and voluntary groups for their contribution to the community.
A Buckingham Palace spokesman said it was hoped a new date could be found soon for the postponed events.
The King and Queen were due to host a Clarence House reception on Wednesday for authors and members of literacy charities to celebrate the second anniversary of her online book club The Reading Room.
The following day Charles and Camilla were scheduled to attend a reception in Milton Keynes to celebrate the metropolis being awarded city status as part of the late Queen's Platinum Jubilee celebrations.
Read more:
Camilla urges checks for illness which killed relatives
Queen Consort's royal cypher revealed
Camilla's warm tribute to Queen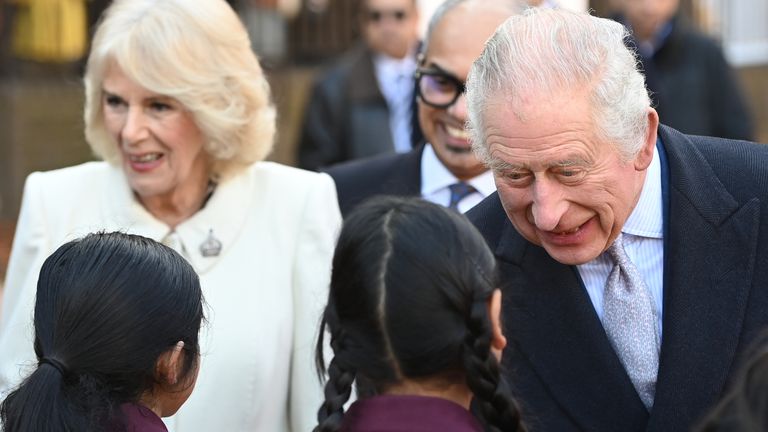 The Queen Consort contracted COVID early last year and was forced to cancel her appearance at several events.
The Princess Royal deputised for Camilla at the Cheltenham Festival last March, as she was pacing herself after recovering from the virus. She also missed a Commonwealth event.
The Queen Consort has had a busy diary of engagements across the UK in recent weeks including travelling as far as Aberdeen and the Welsh town of Wrexham for events.
Last Thursday, she visited Storm Family Centre in Battersea, south London, a charity supporting domestic abuse survivors in the area.
In an impromptu brief speech at the engagement, she said she felt "very privileged and honoured" to have visited the centre.
The previous day, Camilla and her husband King Charles visited London's Brick Lane where they met members of the city's Bangladeshi community.
The couple even received a takeaway to bring home from a south Asian restaurant.