Recommendations after 2022 Champions League stadium failings will be in place before Paris Olympics, IOC says | World News
Olympic bosses have told Sky News they have received assurances that recommendations from a new report will be implemented at venues ahead of next year's Paris Games.
The UEFA-commissioned review into the poor treatment of Liverpool fans outside the Champions League final in the French capital last May found the failings "almost led to a disaster" after faults by European football's governing body and the lack of a venue risk assessment by French authorities.
In response, a spokesperson for the International Olympic Committee (IOC) said: "We are in constant contact with the Organising Committee for the Olympic Games Paris 2024, as security for the Games is the responsibility of the host nation.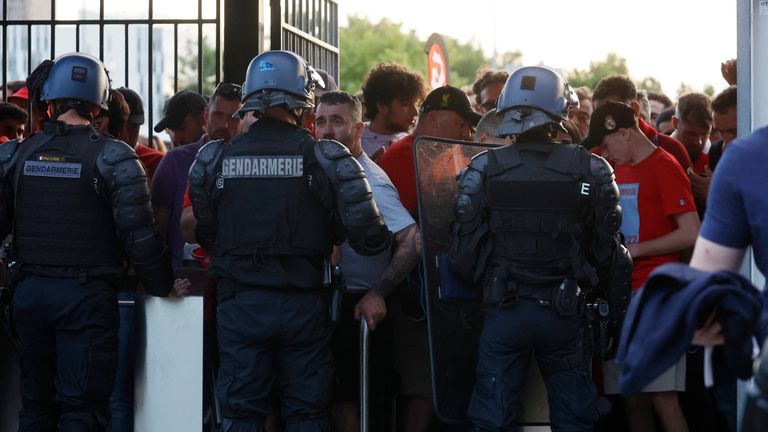 "French authorities have already conducted a review of events during the UEFA Champions League final, which was led by Michel Cadot, the French government's inter-ministerial delegate for major sports events.
"We understand that the recent report from the UEFA-commissioned investigation incorporates findings from the review conducted by Mr Cadot, and that the recommendations of his review will already be applied across the stadiums at the upcoming Rugby World Cup in France this year."
The independent report criticised French police for firing tear gas and pepper spray indiscriminately on concourses near turnstiles being used by Liverpool fans, leading to crushing around security barriers at the Stade de France before the game against Real Madrid.
Read more:
What actually happened at the Stade de France?
Videos from the incident showed Liverpool fans reacting in dismay, with some desperately trying to climb the railings.
UEFA bosses ordered the review to uncover what went wrong, even within their organisation, and its conclusions were discovered by Sky News before the report was then published in full on Monday evening.
There were significant issues accessing the venue and French authorities are criticised for deflecting responsibility, particularly after false claims about a mass of fans without tickets or fake ones.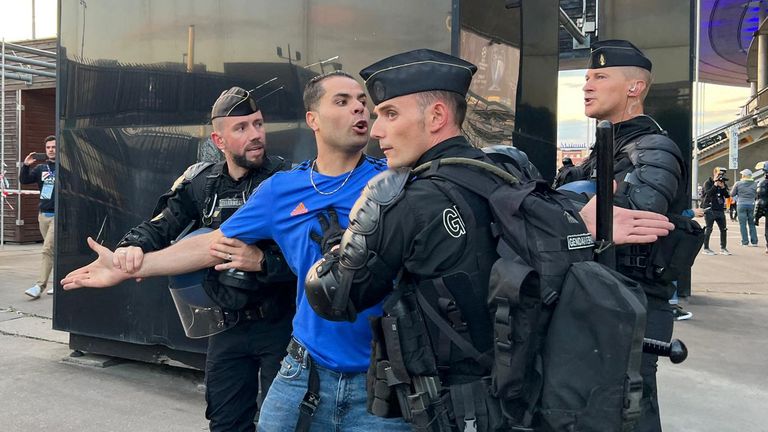 Police were blamed for not being proactive enough in intervening when locals attacked fans, and for being over-reliant on the use of tear gas and pepper spray on blameless fans.
As an event owner, UEFA is assigned "primary responsibility", but it's understood some commission members disagreed with the conclusion.
The match was delayed for 37 minutes as a combination of operational problems outside the venue created access issues for distressed fans – particularly those who are disabled and asthmatics who had to contend with the tear gas and pepper spray.
The report also said the police and the French Football Federation (FFF) "bear responsibility" because of their roles ensuring public safety.
It was described as a near-miss event in the review, referencing an event that almost turns into a "mass fatality catastrophe".