Reports HS2 services will be halved – and run at lower speeds – dismissed as 'speculation' by govt | UK News
The Department for Transport has said it "does not comment on speculation" after proposed cost-saving plans for HS2 were reported.
According to The Daily Telegraph, drastic changes are being planned that would almost halve the number of high-speed trains per hour – and services would travel slower.
The newspaper reported that plans to run services at up to 224mph are in jeopardy as officials decide whether to reduce maximum speeds.
In response, a spokesperson for the Department for Transport told Sky News: "We do not comment on speculation.
"Spades are already in the ground on the HS2 programme. It will better connect regions across the UK, provide a greener option of travel and is supporting tens of thousands of jobs.
"We remain committed to delivering the project. We continue to work in line with the Integrated Rail Plan."
The proposals are reportedly part of an overhaul – codenamed Project Silverlight and Operation Blue Diamond – as ministers grapple with huge inflationary pressures on Britain's biggest infrastructure project.
In a 2020 report conducted by former HS2 and Crossrail chairman Sir Doug Oakervee said up to 10% of building costs could be saved if the requirement for such super high speeds was abandoned, the newspaper writes.
HS2 explained: What is it and how much will it cost?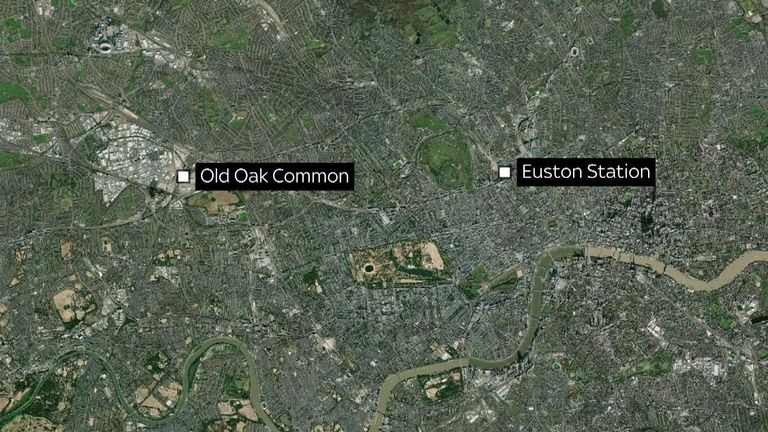 As a result, deputy chairman of Sir Doug's review, Lord Berkeley, wrote a letter to Chancellor Jeremy Hunt and Transport Secretary Mark Harper – stating that, if speeds were reduced to 125mph, significant amounts of money could be saved.
"Why do you need to get to London 30 minutes quicker when you have WiFi and your laptop on the train?" he said.
"I suggest that ministers should look at options for radically cutting the costs of what is left of HS2."
But the prospect of cuts has been criticised by advocates of the project, the Telegraph reported.
As well as cutting costs, HS2 Ltd, the government-owned company, has been accused of using an "untested, out-of-date, fundamentally flawed" tool to assess its impact on nature.
The Wildlife Trusts published a report claiming there will be "at least 17% less nature present" after construction of Phase One between London and Birmingham, whereas HS2 Ltd "say there will only be a 2.6% nature loss".
Dr Rachel Giles, evidence and planning manager at Cheshire Wildlife Trust and author of the report called for the company to "urgently recalculate" the total loss of nature.
But a HS2 Ltd spokesman said: "We don't recognise the figures from the report nor do we believe them to be reliable".