Rishi Sunak talks tough on immigration but the 'stop the boats' slogan is not as straightforward as it seems | Politics News
It is an image the government wants the world to see.
Prime Minister Rishi Sunak standing behind a boldly branded "stop the boats" lectern, with a tough message on immigration.
Traditional solid Conservative ground, and a potential dividing line with Labour ahead of the next general election.
The practicalities may be enormous but the message is simple, as the PM put it: "If you come here illegally you can't stay".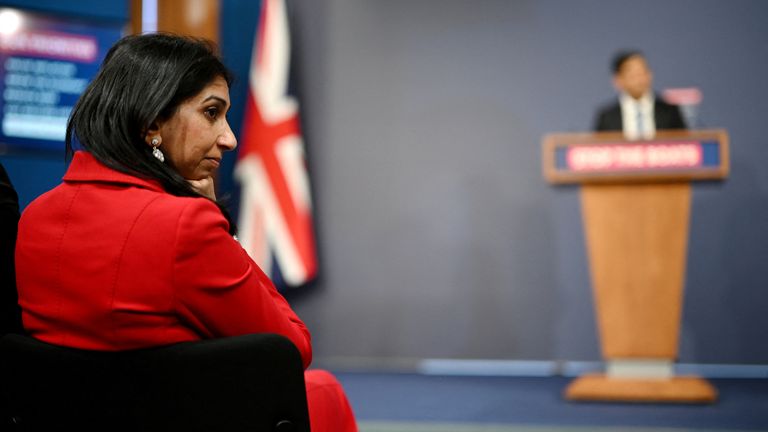 Sunak says 'tough' but 'necessary' small boats crackdown needed – latest political updates
The home secretary, Suella Braverman, accused in the past of inflammatory language, talked about "stopping waves of illegal immigrants from reaching our borders".
Talk is one thing, delivery another.
The PM admitted himself on Tuesday that the bill is "not the magic bullet" but part of a wider strategy.
It is no coincidence that he is meeting President Emmanuel Macron on Friday, hoping a reset in relations with Europe will help with one of his biggest issues at home.
What is new small boats bill?

The Illegal Migration Bill is something new and radical, but if it doesn't act as a deterrent, it's not clear how the government plans to detain and deport thousands of arrivals.
Capacity is being built up in Rwanda and I understand discussions are being had about offshore processing with more third countries.
But last year, 45,000 crossed the Channel and the asylum backlog is estimated to be 160,000.
Read more:
Can the Illegal Migration Bill work?
Annual cap on migrants entering through safe routes unveiled
'Our small boats plan will push boundaries of international law'
The "stop the boats" slogan is not as straightforward as it seems.
The PM's full pledge was to "pass new laws to stop boats and make sure anyone who comes illegally is detained or removed", stopping Channel crossings altogether is something quite different.
Migrants determined to reach UK

Mr Sunak wouldn't be drawn on setting specific targets, and without transparency on the numbers it will be hard to know how well the government is doing.
A fight in the courts, which the PM said he is "up for", and images of just one packed flight heading to Rwanda by the next election sends a message to the electorate.
As for Labour, the shadow home secretary Yvette Cooper, unlike her predecessor Diane Abbott, was determined not to criticise the ethics of the government's plan but instead its workability.
The party is treading a tricky political path on issues like Rwanda, and Labour know they need to convince voters they can be the party of tackling immigration.