Royal Ascot reviews security plans after series of activist protests | UK News
Security plans for Royal Ascot will be reassessed after the Epsom Derby was disrupted by more activists targeting a sporting event.
Sky News understands Ascot chiefs will be "observing and learning" from the track invasion on Saturday at Epsom by animal rights campaigners ahead of their five-day horse racing festival from 20 June.
The meeting starts with the spectacle of the Royal Procession in horse-drawn landaus so it could attract the King and Queen. It was a favourite event attended annually by the late Queen Elizabeth II.
Man rugby tackled after invading race

Activists have shown they are undeterred by court injunctions when attempting to sabotage the Derby.
And it's not just animal welfare groups disrupting sport to ensure their causes and demands are heard.
Just Stop Oil has vowed to continue waging direct action at sporting events in a summer that also sees an Ashes cricket series across England, the Wimbledon tennis championships and Formula One British Grand Prix.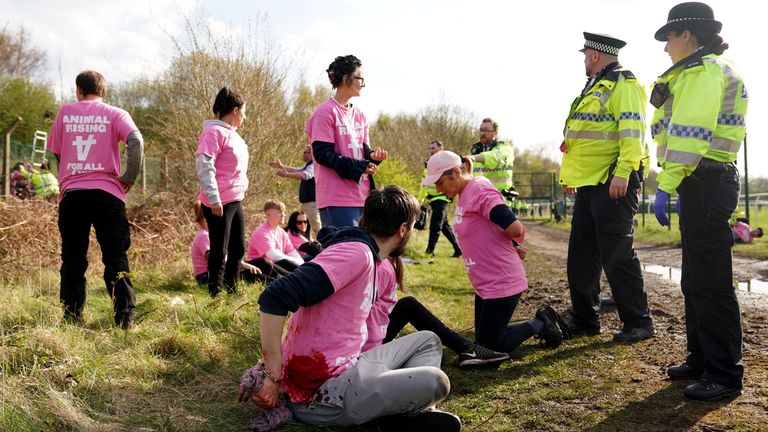 Spokesperson Chloe Naldrett told Sky News: "Under any normal circumstances, this kind of disruption wouldn't be acceptable. But we're not in normal circumstances.
"We've really got to decide how much worse we're going to let this [environmental] problem get before we start taking the right action."
They are demanding the government blocks new oil and gas developments as Labour has reportedly pledged to do if elected to power.
Read more:
One charged and 30 released on bail after protesters disrupt Epsom Derby
118 arrested over protests around Grand National
Just Stop Oil protesters arrested after halting play at World Snooker Championship
"We are looking at everything non-violently reasonable – and looking at all kinds of civil resistance – in order to achieve that aim, which is absolutely fundamental to our survival," Ms Naldrett said.
"We know that these actions are controversial, and that not everybody will agree with us. But we're not trying to get elected."
But an events logistics expert with four decades' experience in the industry warned of a potential backlash by the public.
Stadium Group owner David McAtamney told Sky News: "My concern is the protection of the people that are protesting. If they are very close to large numbers of people who become very angry at their actions then of course we have to protect them as well."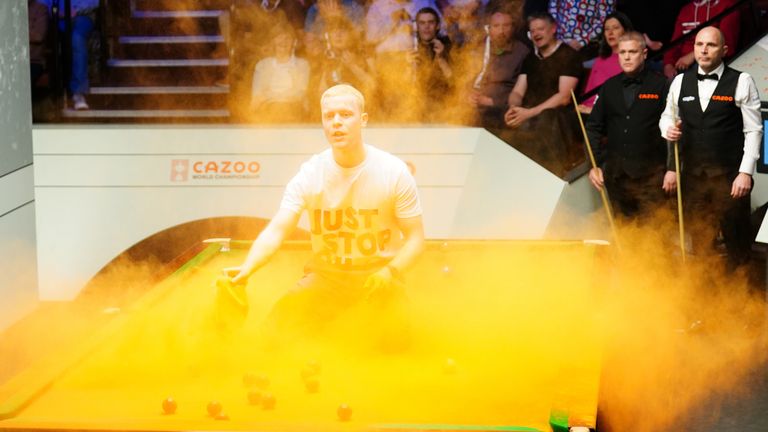 Just Stop Oil demonstrators caused a stoppage at the World Snooker Championships in April by throwing orange powder on the green baize tables.
Mr McAtamney said: "Search lanes have to be more vigilant, to make sure that powder and paint and whatever may be is not coming into these events. So that's the first point of contact and then hopefully we can stop some of this going on."