Woman mauled to death in Surrey was 'attacked by multiple dogs' and screamed 'turn back' to passers-by, witness says | UK News
A woman mauled to death at a Surrey beauty spot was attacked by "multiple dogs" and screamed at passers-by to "turn back", a witness has said.
Paramedics were unable to save the 28-year-old victim after she was attacked at Gravelly Hill, Caterham, on Thursday.
A second woman who received treatment for dog bites has since left hospital.
An eyewitness told Sky News she was riding on horseback with her friend when they saw the woman who was killed on the floor "being attacked by multiple dogs".
Sue Dove said: "She screamed at us to turn back and with that, two of the loose dogs ran towards us and the horses… my horse spun round and bolted and I eventually fell."
The witness said she had been left feeling "lots of different emotions".
She added: "(I feel) sadness that a woman has lost her life, but frustrated people are able to walk so many dogs.
"This lady was clearly out of control for whatever reason, had fallen to the ground, being attacked.
"Because of those consequences and two of the dogs running towards us, my horse bolted and I fell from my horse, landing on my right side, on my ribs and hip.
"Fortunately, my horse eventually stopped and my friend was able to get to him. Otherwise, as flight animals, this could have been another horrific accident if he kept going."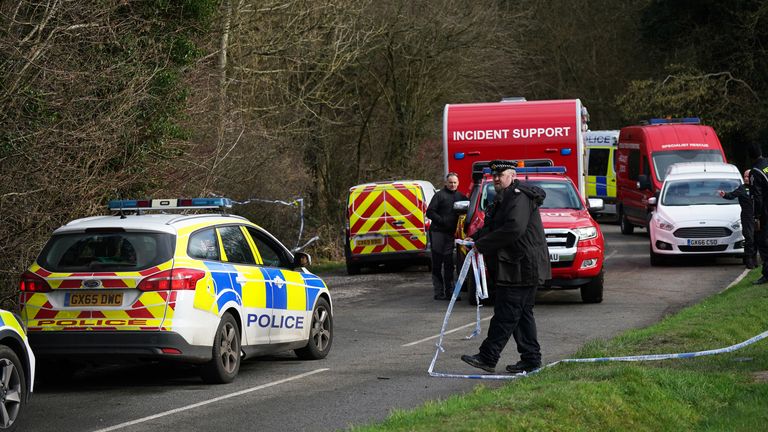 Area popular with dog walkers
Surrey Police detained a total of eight dogs and detectives are keeping their owners up to date with the investigation.
No arrests have been made.
Richard Bream, who runs the nearby Mardens Kennels, said he had never heard of a dog attack in the area before.
He said: "That particular area, View Point, is an area where professional dog walkers will turn up in their van and take the dogs out and walk them.
"I've always felt you see some of these dog walkers have five or six, and they shouldn't be able to do that."
A man at an address near the scene, who asked not to be named, said: "The dogs dispersed into different areas of the woods and the police helicopter was out looking for them."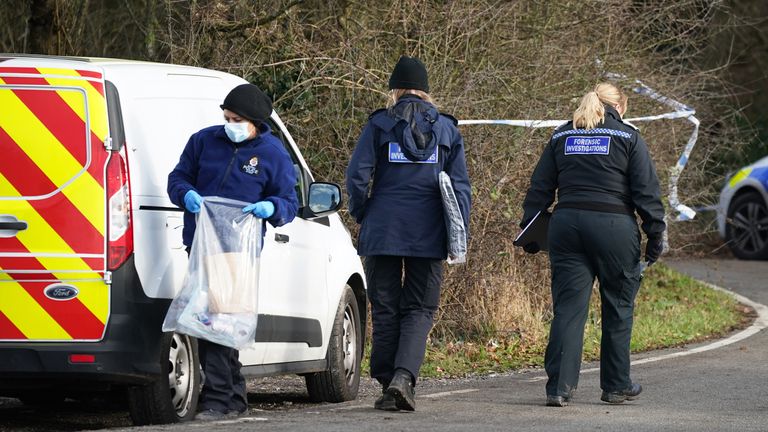 'Tragic incident'
A woman walking a border collie in the area, who asked not to be named, said she was shocked by the incident.
"It's a nice circular woodland walk and we've never had any issues before. It is so shocking, normal dogs surely wouldn't do that," she said.
A post-mortem examination will be conducted by the Surrey coroner.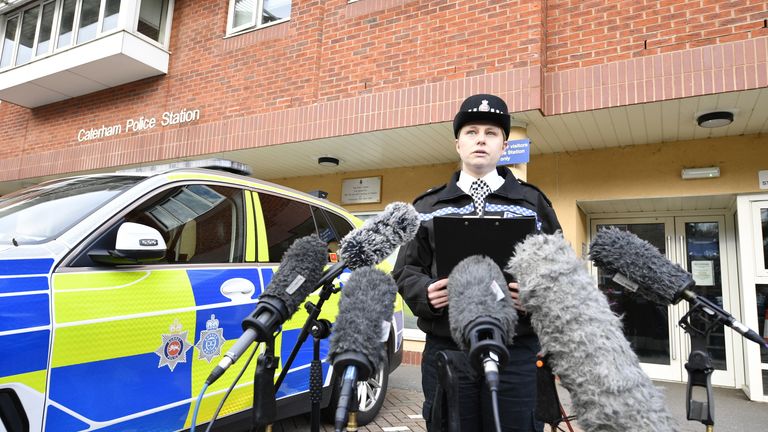 In an update on Friday, Inspector Lyndsey Whatley, borough commander for Tandridge, said: "This is a tragic incident where a young woman has sadly lost her life and our thoughts are with her family and friends.
"I know that yesterday's events will be of real concern to the local community and I would like to reassure residents that we are confident all the dogs involved are in the custody of police whilst we investigate the circumstances of what has happened.
"Officers will remain in the area of Gravelly Hill today whilst enquiries continue and if you have any information but have not yet spoken to police then please contact us."